Solar Powered Equipment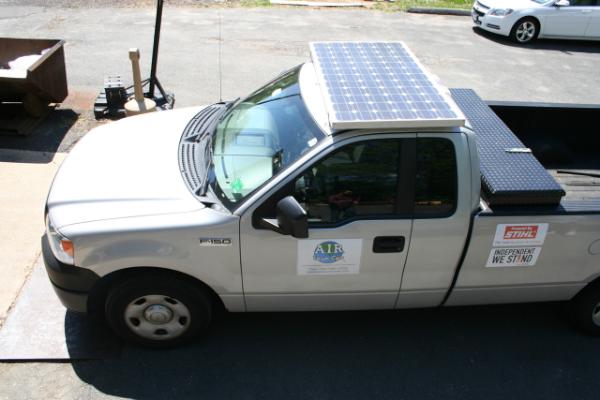 It helps keep neighborhoods clean and gives us a competitive advantage in the gas guzzling lawn care industry.
A.I.R. Lawn Care Solar Charging Unit
In 2011, A.I.R. Lawn Care collaborated with PowerUp to design our first A.I.R. Lawn
Care Solar Charging Unit. PowerUp is the Mid-Atlantic's #1 solar electric systems and components company. Along with being the oldest grid-tie system integrator they specialize in the design and assembly of stand-alone, turn-key power systems. PowerUp's turn-key systems can be sized to power a wide variety of off-grid applications including, but not limited to radio repeaters, surveillance cameras and PoE applications. No system is too small or too large for PowerUp as evident by the solar panels installed on A.I.R. Lawn Care's truck. PowerUp utilizes industry leading products and methods and they have a NABCEP certified system designer and licensed, master electrician on staff.
A.I.R. Lawn Care Solar Charging Unit
The panel captures the sun's energy with a PV solar panel, stores that energy with batteries, and then we plug into it when we need a boost just like you would plug into the wall. The best thing is that it rides on top of our truck so we're ready for whatever lawn care conditions that might come up.